8:30am EST, 1:30pm GMT, 2:30pm CET
ONLINE EVENT | Rebels For Whose Cause? Stories from the Frontline of Gendered Counter-terrorism
Please join us for an online conversation about Crisis Group's new briefing on the 20th anniversary of UNSCR 1325, the WPS agenda's prospects and troubled implementation.
A discussion marking Crisis Group's new briefing on the 20th anniversary of UNSCR 1325, the WPS agenda's prospects and troubled implementation. We will explore how WPS work has been integrated with the complement to counter-terrorism known as "countering violent extremism."
Panellists will describe their experiences and field research from Nigeria to Tunisia to Afghanistan, examining how activism has become tangled in and sometimes subordinated to, states' efforts to combat Islamist militancy. We will discuss practical recommendations for governments and donors promoting a safer and more equitable vision of the WPS agenda.
Azadeh Moaveni

: Crisis Group's Gender Project Director

Hodan Hassan

: Executive director of Kulan Consulting. Previously, she spent 12 years with USAID managing development programs in Sudan and Somalia.

Aleksandra Dier

: Gender Coordinator at the UN Counter-Terrorism Committee Executive Directorate (CTED). Previously, she served in UN field missions in Afghanistan and Burundi.

Chitra Nagarajan

: Writer and activist who works to build peace and promote and protect human rights, including those of women, in Nigeria.

Sussan Tahmasebi

: Women's rights advocate from Iran and founder and Executive Director of Femena.
Naz Modirzadeh

: Director of the Harvard Law School Program on International Law and Armed Conflict and a Crisis Group Trustee.
Invitation
Refugee Women as Agents for Peace
The UN Women, Peace and Security Agenda in the Context of Forced Migration
The
VIDC
warmly invites you to a panel discussion and study presentation on the UN Resolution 1325 and its application on the participation and rights of refugee women in the EU.
20 years ago, the UN Security Council Resolution 1325 was adopted - with the main aims of strengthening women's participation in peace and security governance; ensuring their protection; enabling their recovery from conflict-related and gender-based violence; and contributing to the prevention of armed conflict. Great effort has been put into the realization of this UNSCR 1325 - by international organisations, the EU, state actors, international NGOs, feminist networks and civil society actors.
One significant group however has been widely ignored in the discourse, action plans and implementation of this agenda, namely forcibly displaced, conflict-affected women who have sought asylum in Europe. Do we also acknowledge refugee and asylum-seeking women as experts in conflict analysis and peacebuilding? Do we demand and guarantee sufficient, adequate relief and recovery mechanisms for conflict-affected women and girls? And do we understand that this participation, relief and recovery and protection of refugee women and girls within the EU forms an essential part of the WPS agenda?
The VIDC has been working on the UN Women, Peace and Security (WPS) Agenda, as well as on diaspora engagement over many years. We took this year's 20th anniversary of the UNSCR 1325 as an occasion to draw attention to the connection between these two policy areas: the WPS Agenda and forced migration to Europe. For the VIDC, Barbara Kühhas, expert in gender, peace and development, and Marie-Luise Möller, lawyer specialized in asylum and immigration law, conducted a study analysing the gaps in the implementation of the WPS agenda in Austria with regards to the rights and living conditions of refugee and asylum-seeking women.
Language: English and Arab with simultaneous interpretation
You will receive the data for the Zoom Webinar in the morning of 3 December 2020 and after personal registration.
PAX Webinar: 'Gender' in peace and security
Time: 12:30-14:00 Amsterdam time
Location: Webinar
It has been 20 years since the first resolution on "Women, Peace, and Security" was adopted at the United Nations, and there has been much discussion on how war affects men and women differently. But what role does "gender identity" play in effectively promoting peace and security in diverse cultural contexts?
PAX's Gender team will share a bit about PAX's approach to "intersectional and transformational gender approaches" in peacebuilding (and explain what all those technical terms mean in practice). We will also speak with Zainab Kadhim, one of PAX's partners based in Iraq, about her work combatting sexual and gender-based violence (SGBV) in Iraq.
When?
Tuesday 1st of December, 12:30-14:00 (Amsterdam time), via ZOOM.
Addressing the women, peace and security agenda in the field: practical challenges for military and civilian personnel
15:30 - 17:00 hrs
The focus in the session will be on what goes well and what does not, and how we can identify opportunities for cooperation in making the Women, Peace and Security agenda a greater success. We have attached a number of potentially interesting reports that may serve as food for thought before participating in the session.
After the session on WPS, we would also like to discuss the near future of the network. In particular, we would welcome your thoughts on the following points: Whether you would like to see more online events as long as physical meetings are neither possible nor wise; what kinds of topics could be covered by these events; and whether and, if so, how to take the 'networking'-element of the DPN online.
We are happy to announce that
Marriet Schuurman
(Director Stabilisation and Humanitarian Aid, Dutch MFA ) & Lieutenant Colonel
Ella van den Heuvel
(gender adviser to the Dutch Chief of Defence) have agreed to participate in this event, which will be moderated by dr.
Vanessa Newby
(Assistant Professor at Leiden University and President of the Dutch Women in International Security Network).
Sander Agterhuis
(Gender Adviser, 1GNC Munster) will kick of the discussion.
The session is structured as follows:
15:30-15:55: Moderated interview with Lt. Col. Ella van der Heuvel & Marriet Schuurman
15:55-16:00: Short break
16:00-16:30: Open discussion about the practical challenges that members of the network encounter in the field (or otherwise)
16:30-16:35: Short break
16:35-17:05: Open discussion about the near future of the Dutch Peacekeeping Network
The session will most likely be organised using Microsoft Teams. Closer to the event, all attendees will be informed of the logistics.
Virtual Roundtable 3:
Dealing with Structural Causes and Gender Hierarchies Underlying SGBV: A Comparative Approach
Time: 18:00 – 19:30 [GMT+3 Iraq Time], 17:00 – 18:30 [CET], 11:00 – 12:30 [ET]
Brisna Caxaj, Gender Programme Coordinator - Guatemala, Impunity Watch
TBC, Dr. Ibtisam Aziz, Director General of the Women Empowerment Department of the Council of Ministers, Iraq
Dr. Ilham Makki, Gender Adviser, Iraqi Al-Amal Association
Roza Qaidi, Yazidi Activist and Researcher
Mona Zeineddine, Programmes Manager, Women Now for Development
Moderator:
Florence Bateson, Senior Project Officer Iraq, PAX
This roundtable discussion brings together gender experts from Guatemala, Iraq and Syria
to share their experiences on how they have dealt with structural and root causes of
SGBV. They will also discuss how hegemonic or violent masculinities contribute to the
spread of SGBV and why security sector and judicial reforms are essential in the struggle
for justice and the prevention of SGBV.
30 oktober 2020

Perspectives from Women Peace Negotiators
Marking the 20th anniversary of UN Security Council Resolution 1325 and launching a new season of the Seeking Peace podcast
Signatory to the Good Friday Agreement in Northern Ireland and
Co-founder of the Northern Ireland Women's Coalition
Chief Negotiator of the Philippines Government in the Mindanao Peace Talks
Member of the Colombian Government's Negotiating Team in Havana and
Former Thematic Director of the Office of the High Commissioner for Peace
Moderated by Ambassador Melanne Verveer
Executive Director, Georgetown Institute for Women, Peace and Security
Only 13 percent of peace negotiators are women. What is it like to be one of them? Join women peace negotiators from Colombia, the Philippines, and Northern Ireland to hear their stories and reflections on the difference that women make at the peace table. This event commemorates the 20th anniversary of
UNSCR 1325
and celebrates a new season of the Seeking Peace podcast, which amplifies stories of women peace builders like Elena, Miriam, and Monica.
Hosted by The Georgetown Institute for Women, Peace and Security.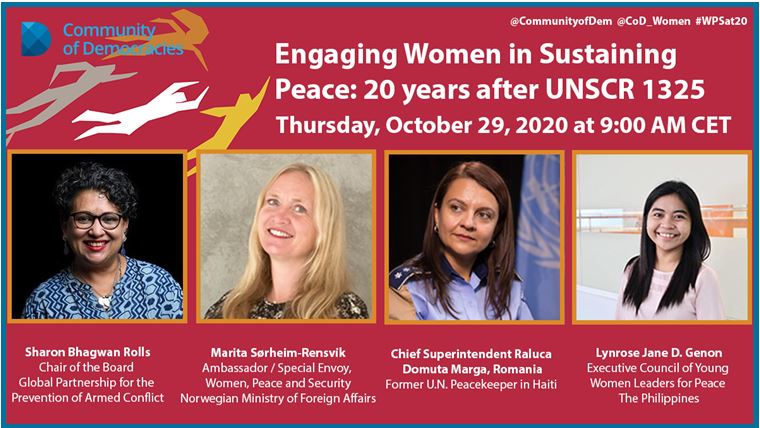 This webinar will explore in an open and constructive manner how full and concrete implementation of the WPS agenda can be realized. After 20 years of promoting and talking about WPS, it is time for an honest reflection. What can we all learn from 20 years collective failing and trying again to meaningfully engage women in peace and security processes? What are proven impactful ways and measures of governments, civil society and multilateral organizations that do realize real change? How can we ensure that technique and politics are the two reinforcing sides of the same coin?
____________________
Introduction and moderation
Yoka Brandt
, Permanent Representative of the Netherlands to the United Nations
'Beyond cherry-picking'
: Panel debate on WPS mainstreaming
Q&A's with participants
'Watch the elephant in the room!'
: Panel debate on accountability and impact on the political level
Q&A's with participants
Aggrey David Kibenge
, Permanent Secretary, Ministry of Gender, Labour and Social Development, Uganda
Áine Hearns
, Senior Evaluation Specialist, Department of Foreign Affairs, Ireland
Hala Al-Karib
, Director Strategic Initiative for Women in the Horn of Africa (SIHA), Sudan
Diana María Salcedo López
, Director Liga Internacional de Mujeres por la Paz y la Libertad (LIMPAL)/ Women's International League for Peace and Freedom (WILPF), Colombia
Nasima Omari
, Lobby & Advocacy Program manager, Cordaid, Afghanistan
____________________
Virtual Roundtable 2:
Constructing the SGBV Narrative in Iraq as a Way to Address and Prevent its Recurrence
Time: 11:00 – 12:30 [GMT+3 Iraq Time], 10:00 – 11:30 [CET]
Hanaa Edwar, President, Iraqi Al-Amal Association, Iraq
Inas Jabbar, Activist, Iraq
Amal Saqr, President of Nama Foundation for Media Training, Iraq
Moderator:
Frances Topham Smallwood, Senior Program Officer – MENA, Impunity Watch
This virtual roundtable brings together Iraqi officials, activists, civil society representatives
and media professionals to discuss opportunities and challenges of truth-telling and oral
history in dealing with SGBV and better understanding the role of the media in covering it.
COVID-19 and Gender Justice: Feminists in MENA defying global structural failure
Women's International League for Peace & Freedom - WILPF
Tijd: 2:00pm–3:30pm CET | 9:00am –10:30am EST
Locatie: Webinar
Join us for a discussion on the militarisation and securitisation of the virus; the role of the United Nations in conflict, feminist peace, and COVID-19; and the impact of the pandemic on feminist organising in the Middle East and North Africa.
The event is in English and Arabic with live interpretation on Zoom only.
Salma Kahale

, Dawlaty - Syria

Randa Siniora

, Women's Center for Legal Aid and Counseling -Palestine

Nada Nashaat

, Center for Egyptian Women's Legal Assistance - Egypt

Rola Al-Masri

, WILPF MENA Manager
Laila Alodaat

, WILPF MENA Director
With opening remarks by WILPF Secretary-General
Madeleine Rees
Committing to Women's Leadership in Peacebuilding -
Bringing Women, Peace and Security and the UN Peacebuilding Architecture Closer Together
Side event to the 20th anniversary of UN Security Council Resolution 1325
Time:
8:30am - 10:00am EST | 13:30 - 15:00 pm CET
Virtual Discussion over Zoom
20 Years On: Marking Two Decades of the Women, Peace and Security Agenda Learning from Grassroots Women Peacebuilders to Advance the WPS Agenda Beyond 2020
Date: 26 October 2020 (TBC) | Time: 9:00 – 10:30 AM (TBC)
Sponsors
: GNWP, UN Women, Permanent Mission of Ireland to the UN
Online panel discussion on the sidelines of the 20th Anniversary of the United Nations Security Council Resolution (UNSCR) 1325
Virtual Roundtable 1:
SGBV Mapping Report Launch and Discussion on How to Move Forward
Time: 11:00 – 14:00 [GMT+3 Iraq Time], 10:00 – 13:00 [CET]
HE Evan Faeq Yaqoub, Minister of Immigration and the Displaced and Deputy Chair of the Women National Council, Iraq
TBC, Dr. Ibtisam Aziz, Director General of the Women Empowerment Department of the Council of Ministers, Iraq
Noel Kututwa, Senior Women Protection Adviser, United Nations Assistance Mission for Iraq (UNAMI)
TBC, Netherlands Ministry of Foreign Affairs
Moderator:
Jamal Al Jawahiri, Executive Director, Iraqi Al-Amal Association
During this event, Dr. Ilham Makki from Iraqi Al-Amal Association will present the main
findings and recommendations of the mapping report which highlights root causes and
patterns of SGBV in Iraq (2003- 2018). The presentation will be followed by a roundtable
discussion, held under the Chatham House Rule, with national and international
policymakers on how the report recommendations can contribute to policy change in Iraq.
Peacebuilding in a Pandemic: Tracking the Impact of COVID-19 on Women, Peace, and Security
Date: 21 October 2020 | Time: 9:00 – 10:30 AM
Sponsors
: GNWP, UN Women, Permanent Mission of Ireland to the UN
UNSCR 1325 at 20 Years: Perspectives from Feminist Peace Activists
Join WILPF for a webinar to reflect on 20 years of UNSCR 1325 and the Women, Peace and Security Agenda.
There are ten Women, Peace and Security resolutions, many frameworks for gender equality, and countless commitments by member states, but we still live in a world with war and violence, where women and girls are disproportionately affected. Women are leading the way for peace in their communities, whether through early warning systems, peace processes, or advocating for human rights to education and livelihood.
Join women leaders and peace activists from Australia, Colombia, Libya, Nigeria, and Sweden as they share their experiences advocating for peace and human security in their communities. Their reflections are also part of WILPF's upcoming report about the past 20 years of WPS implementation, from the perspective of women peace activists.
Ludmilla Kwitko, WILPF Australia
Diana Salcedo López, WILPF Colombia
Inas Miloud, Tamazight Women's Movement, Libya
Joy Onyesoh, WILPF International President, WILPF Nigeria
Gabriella Irsten, WILPF Sweden
Maria Butler, Director of Global Programmes, WILPF International Secretariat
The event will be simultaneously live-streamed on the WILPF Facebook page.
The webinar will take place in English and Spanish.
Ensuring Feminist and Localized Humanitarian Emergency Response: Where Women, Peace, and Security and Humanitarian Action Meet
Date: 19 October 2020 | Time: 8:30 – 10:00 AM
Sponsors
: GNWP, UN Women, Women's Peace and Humanitarian Fund, Women's Refugee Commission, Permanent Mission of Canada to the UN
Youth-led activism for Women, Peace and Security: Looking for a paradigm shift
The UN resolutions on Youth, Peace and Security also reinforce UNSCR 1325 and the Women, Peace and Security Agenda. Working together with young activists to challenge oppressive structures from a feminist and youth perspective and encouraging active citizenship to address the safety concerns in their society is key. Engagement of young people to work on the women, peace and security agenda (including the principles of UNSCR 1325) on local, regional and international level is most relevant to effectively respond to today's humanitarian crisis.
KEY VOICES FOR LASTING CHANGE: SHAPING THE WPS AGENDA FOR THE NEXT 10 YEARS – WEBINAR SERIES
Daily: 9 - 10.30 AM (NY Time) / 15 - 16.30 PM (CET)
In light of the 20th anniversary of UN resolution 1325 on Women, Peace and Security and in preparation for the UN Security Council Open Debate week, Cordaid and the Civil Society Platform for Peacebuilding and Statebuilding (CSPPS) are
jointly launching a series of virtual dialogues showcasing good practices and inspiring examples for the WPS Agenda
.

We aim to encourage activists, policy makers and donors to continue or renew their commitment to support and strengthen the role of women in conflict and peacebuilding processes, and to accelerate action towards full implementation of the WPS agenda. After 20 years, we have seen progress on the implementation of women's involvement in peace and security issues, with increased attention for women's specific roles and needs in diverse conflict-affected settings. However, discussions on the WPS agenda often take place in isolation and implementation is still lagging behind. In moving forward, we must ensure to embark upon a more inclusive and participatory process with a larger and more diverse group of stakeholders. The 20th anniversary of the WPS agenda provides an opportunity to look back at previous efforts and to set the stage for renewed commitment for action.
Key Voices for Lasting Change will provide a dialogue space for sharing valuable input by women's (rights) activists and for showing the diversity of the WPS agenda. While UNSC resolution 1325 and its subsequent resolutions show a general and shared commitment on the part of member states towards the WPS agenda, the implementation of this agenda takes various forms. Attention to the specificities of local contexts helps to increase our awareness of the diverse roles that women fulfil in societies, especially in fragile contexts. We believe that the WPS agenda should be inclusive, transformative, and women-led. By providing a space to listen to key voices share how to shape the WPS agenda moving forward, the Key Voices for Lasting Change series offers an opportunity to learn and to develop our sensitivity and contextual understanding, allowing us to contribute to lasting change and move from resolutions to implementation on the ground. Ultimately, any effort towards change should always refer to and originate at the local level.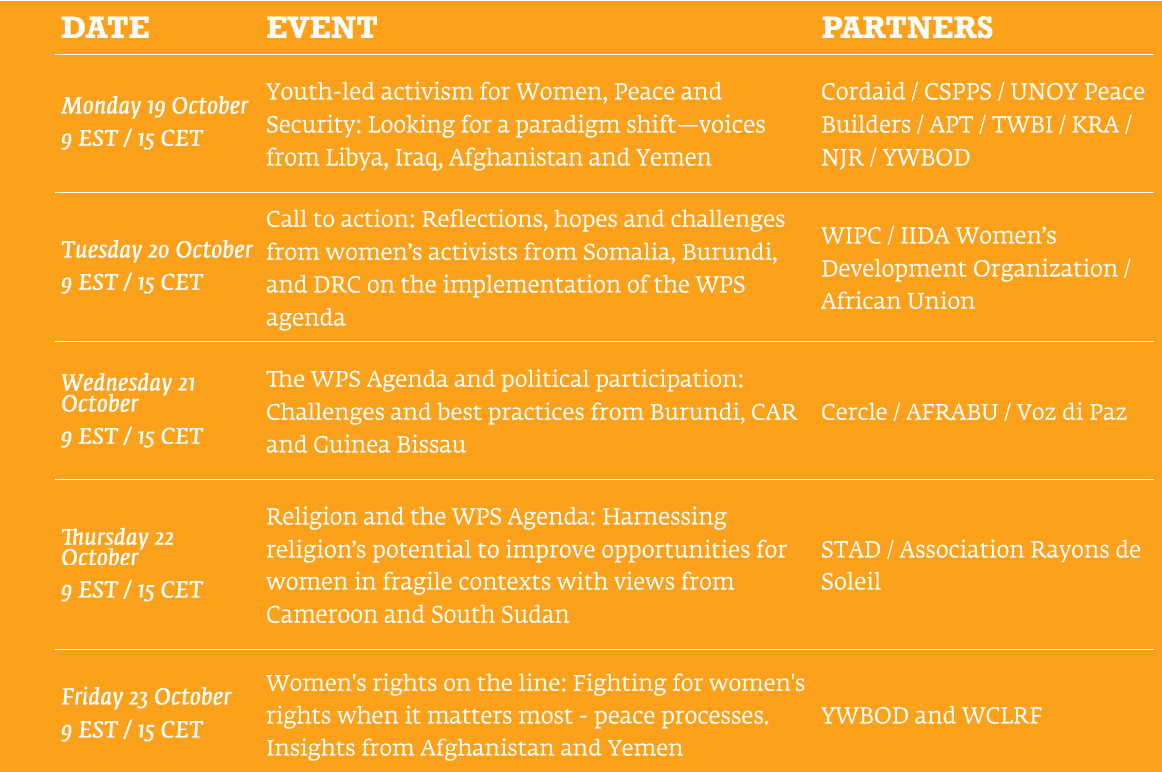 20 years of UNSCR 1325: Women, Peace and Security in the Arab Region
When: 15 October, 16:00 - 18:00 Cairo / 10:00 - 12:00 Eastern
Location: Virtual - Zoom
Organizers: Karama
RSVP: https://us02web.zoom.us/webinar/register/WN_KevyaSocSu2mmCg7ewfawQ
Can technology counter hate speech? Evidence from a Women, Peace and Security perspective in Asia
When: 15 October, 9am BKK Time
Location: Virtual - Zoom
Organizers: UN Women, Mithos Labs
RSVP: https://unwomen.zoom.us/webinar/register/WN_vqTWl28qSoqSrMqPtt6Ufw
Women peacebuilders and first responders define priorities for gender-responsive peacebuilding and COVID-19 recovery in 2020 and beyond
Date: 15 October 2020 | Time: 9:00 – 10:30 AM
Sponsors
: GNWP, Women's Peace and Humanitarian Fund, the Austrian Development Cooperation
Her Power 2020 - An FP Virtual Summit
When: 14 & 15 October, 10.00 am 12.15 am EST
Location: Virtual
Organizers: Foreign Policy magazine
RSVP: Register Here
13 en 14 oktober 2020
ONLINE EXCHANGE SESSIONS: ''RELIGION AND THE WOMEN, PEACE AND SECURITY AGENDA''
Datum: 13-10-2020
Tijd: 10:30 - 12:00 PM
Datum: 14-10-2020
Tijd: 1:00-2:30 PM
Locatie: Virtueel
Thank you for expressing interest in attending our event on ''Religion and the Women, Peace and Security agenda'', which was originally planned to take place on October 1st and has now been reorganized.
Tuesday October 13th from 10:30 AM to 12:00 PM and Wednesday October 14th from 1:00 PM to 2:30 PM, we will be hosting online exchange sessions. If you haven't already, please make sure to register for one of the two sessions before Monday October 12th 12:00 PM by filling in the registration form.
We will send you the log in details on Monday afternoon.
We hope the expert sessions that were shared throughout this week have inspired you and provide you with food for thought for the upcoming sessions. If you didn't manage to see the expert sessions yet, don't worry! You can find them back on Cordaid's webpage about the event to watch them at your convenience.
We hope to meet you online on either October 13th or October 14th!
The progress and potential of women's leadership: Survivors of sexual violence step up and speak out for Transitional Justice
When: 12 October, 10:00am – 4.00pm CET
Location: Virtual
Organizers: UN Women, the Office of the Special Representative of the Secretary General, Mukwege Foundation
RSVP: https://www.eventbrite.co.uk/e/the-progress-and-potential-of-womens-leadership-tickets-121708337915
Language: Spanish, French, Arabic and English respectively. Simultaneous interpretation to English will be available for all discussions.
Save the Date: https://drive.google.com/file/d/1-4SuHh4wYGUCA6vgwgyjmfeGBjbFlimv/view?usp=sharing
This event will take stock of the successes and challenges faced by survivors who are leading advances on the front lines of transitional justice in their countries. The event will feature survivors from across the world, including Colombia, Iraq, and the Democratic Republic of the Congo, and engage them in conversation with world-renowned panelists, such as:
Ángela María Escobar, Victim and Survivor of Conflict-Related Sexual Violence and National Coordinator of Red de Mujeres Víctimas y Profesionales
Phumzile Mlambo-Ngcuka, UN Under-Secretary-General and Executive Director of UN Women
Pramila Patten, UN Under-Secretary-General and Special Representative on Sexual Violence in Conflict
Dr. Denis Mukwege, Gynecologist, Human Rights Activist, and Nobel Peace Prize Laureate
The Current Status of South Sudanese Women on UNSCR 1325 and the 35% Affirmative Action -
ONLINE EVENT OCTOBER 10TH
To mark the 20th Anniversary of UNSCR 1325, the Netherlands Embassy in Juba with Support to UNWomen and South Sudanese Intellectual Forum on 10th October will be organizing a high level panel discussion on the theme:
"The Current Status of The South Sudanese Women on The UNSCR 1325 And The 35% Affirmative Action".
The objective will be to understand the progress in the implementation of the UNSCR 1325 and the 35% affirmative action quota, challenges faced and strategies to ensure their effective implementation in South Sudan.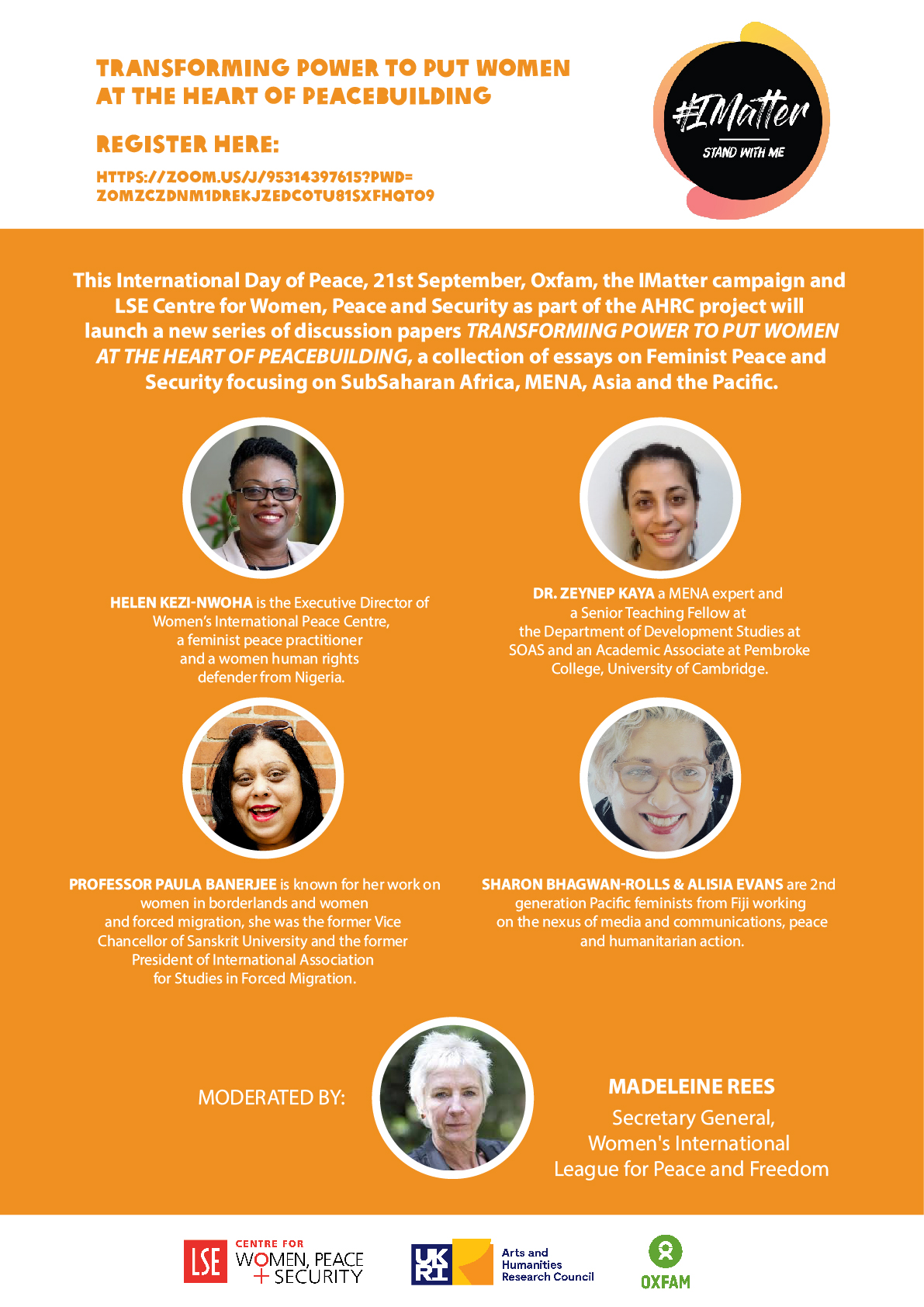 GNWP EVENT: BEIJING+25: IS THE GENERATION EQUALITY COMPACT ON WOMEN, PEACE, AND SECURITY AND HUMANITARIAN ACTION FIT FOR PURPOSE?
Date: 08-10-2020
Time: 08:30 - 10:00 US Eastern Daylight Time
Location: online

Join the Global Network of Women Peacebuilders for the virtual panel discussion on Beijing+25: Is the Generation Equality Compact on Women, Peace, and Security and Humanitarian Action Fit for Purpose? Civil Society Perspectives and Recommendations Ahead of the Generation Equality Forumthatthecivil society-ledBeijing +25 Women, Peace, and Security (WPS) - Youth, Peace and Security (YPS) Action Coalition is organizing to commemorate the 20th anniversary of the United Nations Security Council Resolution 1325 on
October 8, 2020 from 8:30 to 10:00 AM (US Eastern Daylight Time).
The panel discussion will create a space for grassroots women and youth peacebuilders to present their recommendations, priorities, and hopes for the Generation Equality Compact on Women, Peace, and Security and Humanitarian Action (HA)to Member States and UN entities. The discussion will enable a deep discussion on links between the Beijing Declaration and Platform for Action (BPFA); WPS; YPS; and Humanitarian Action frameworks and generate support and momentum for their coordinated and deliberate inclusion within the Compact and all other outcomes of the Generation Equality Forum.
October 6, 2020
Time: 09:00 am - 12:30 pm
Location: webinar
In the run-up to Dutch NAP 4 and at the end of NAP III, the Dutch-Congolese organizations DRCC Foundation and TOSANGANA are organizing an Expert Meeting to present the results of the NL-DRC collaboration.
Theme:
20 years 1325, 15 years Cooperation between the Netherlands and the DRC for Gender Equality, Peace, Security & Sustainable Development: the Diaspora in Action for Peace and Justice.
Register before October 1, 2020 via info@drccfoundation.org or info@tosangana.com.
Tijd: Sep 21, 2020 02:30 PM in Nairobi
World Peace Day, 21st September 2020 launches a series of events to promote women's leadership in conflict and post-conflict contexts, as we approach the 20th Anniversary of UN1325 resolution. Progress for women's rights in peace and security decision-making and leadership has stagnated and past gains are under threat. Please register for the webinar at the zoom link for 1pm BST, 21st Sept 2020