CREA - FEB 1 - FEMINIST TECH DEEP-DIVE ON ONLINE MISINFORMATION AND DISINFORMATION
A 3-day deep-dive, conducted virtually, a hope-driven call to action, which invites the participants not only to understand and critique, but occupy and expand digital spaces for democratic engagement. Participants will be given feminist frameworks and tools with which to critically examine their own advocacy strategies and the rights-based claims, in relation to online space and digital rights, and encourage participants to see how disinformation and misinformation are used to structurally silence certain groups of people. The deep-dive will deepen participants' understanding of the concepts of disinformation and misinformation, and the actors involved, and interrogate gaps in common human rights interventions which aim to respond to disinformation and misinformation.
The deep-dive is scheduled for 1, 2 and 3 February 2022.
The deep-dive will be conducted virtually, with attention paid to confidentiality, privacy and security.
Please apply by filling out this form!
More information here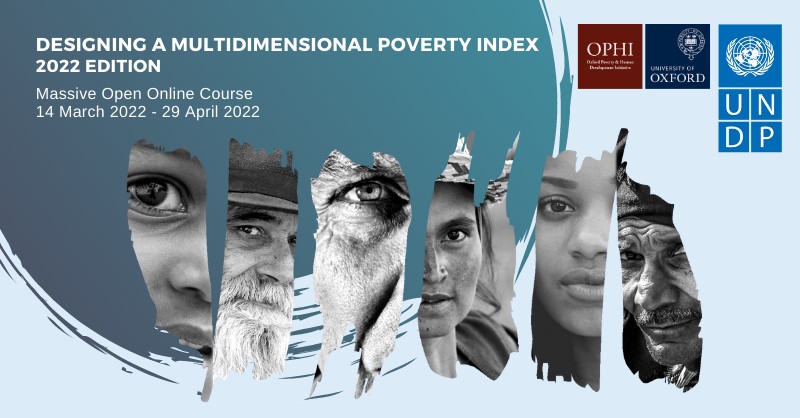 UNDP/OPHI -14 March to 29 April 2022 - Designing a Multidimensional Poverty Index
UNDP and the Oxford Poverty and Human Development Initiative (OPHI) have partnered to offer a third edition of the Massive Online Open Course (MOOC) on "Designing a Multidimensional Poverty Index (MPI)" - from 14 March to 29 April 2022. Here's the course trailer.
This 2022 edition, offered due to high demand, will be facilitated in English, French, Spanish, and Russian and will provide an expanded library of country case studies. It is aimed at technicians and policy makers engaged in developing national and subnational MPIs but is open to everyone.
Throughout the course, one can learn how to develop a holistic, multidimensional poverty measure that integrates income-based inequalities with deprivations across education, health, housing, sanitation, employment and livelihoods, food security, environment, and other living standards to inform the implementation of the 2030 Agenda for Sustainable Development.
Hashtags: #MultidimensionalPovertyIndex #MOOC
Are you a human rights defender keen to use the UN to push for change at home? If so, apply to the 2022 edition of ISHR's flagship training the Human Rights Defender Advocacy Programme (HRDAP).
After two successful online editions in 2020 and 2021, ISHR is pleased to launch the call for applications for the third online edition of the Human Rights Defenders Advocacy Programme (HRDAP), which will take place remotely between 4 April and 24 June 2022.
The course equips human rights defenders with the knowledge and skills to integrate the UN human rights system into their existing work at the national level in a strategic manner, and provides an opportunity for participants to prepare for and engage in lobbying and advocacy activities at the UN with the aim to effect change back home.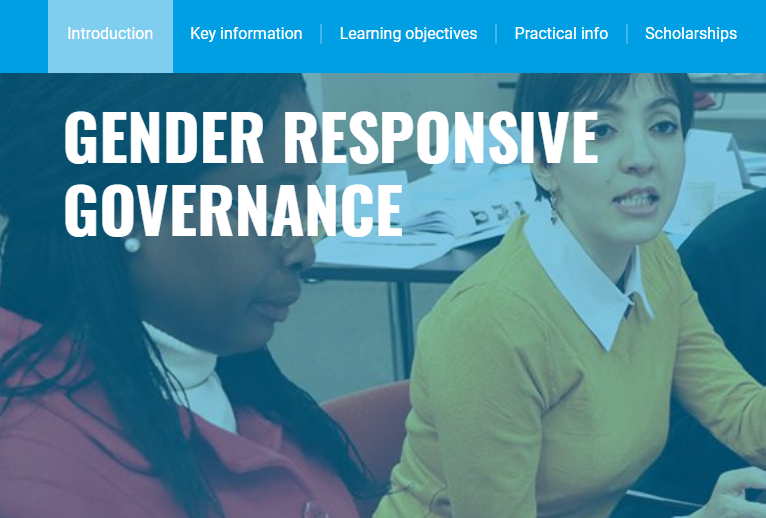 The Hague Academy for Local Governance - 14 - 25 November 2022 GENDER RESPONSIVE GOVERNANCE
Gender equality is fundamentally linked to sus­tainable development and globally accepted as a necessary factor in the promotion of human rights. In the context of local government, gender equa­lity is critical as women, men and people with diverse gender identities face different challenges for full participation, representation and decent work opportunities. Measures that ensure equitable access to resources and basic services are necessary to achieve inclusive and gender-responsive governance.
This course discusses gender dynamics and focuses on the different needs and priorities of women, men, young girls and boys. We will discuss gender-sensitive strategies and tools for gender analysis, mainstreaming gender and gender-responsive budgeting in policies and programmes at the local level. Special attention is given to the involvement of marginalised groups (i.e. women, youth) in development initiatives. The course will also underline how best to engage men and discuss cross-cutting issues of applying a diverse gender perspective (intersectionality), especially in complex cultural and religious or conflict-affected settings.
More information here